Configuration of Facebook Wi-Fi in Cisco Meraki:
In  Cisco Meraki dashboard, navigate to Wireless > SSIDs > edit settings of Access Control. Then configure as below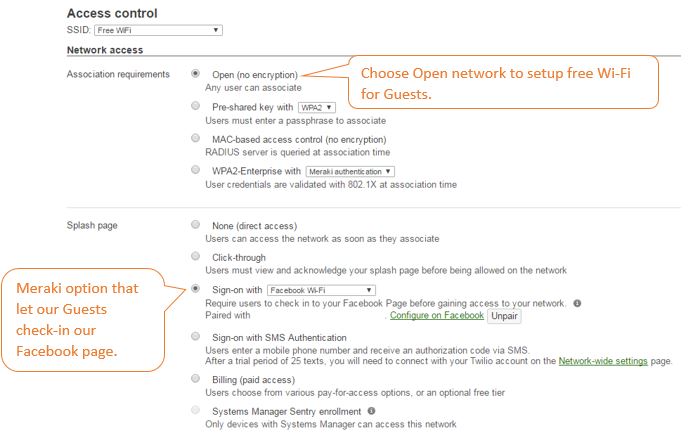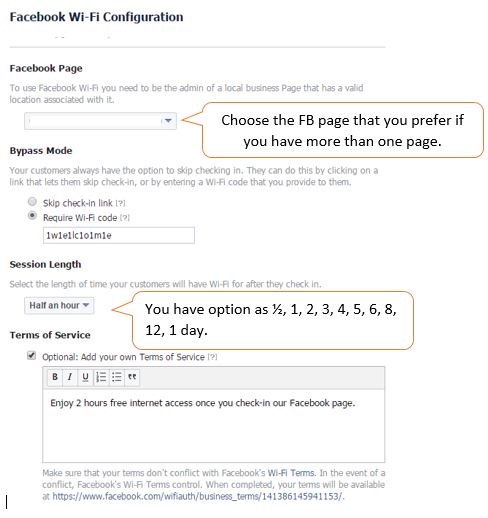 Under Addressing and traffic option, choose Bridge mode: Make clients part of the LAN. This option let clients receive IP address from your local DHCP server, probably thats your ADSL router so they get access to your LAN! You may choose NAT mode: Use Meraki DHCP Clients. This option let clients receive IP addresses from Meraki in an isolated 10.0.0.0/8 network. Clients cannot communicate with each other, but they may communicate with devices on the wired LAN if firewall rules are permitted in Meraki.
Under Wireless Firewall & traffic shaping, specify Layer3 firewall rules as you definitely want to restrict Guest access to LAN network in Bridge mode.
Now, here is my review!
Failure 1 – WhatsApp, Viber and other non-HTTP traffic application started working for our Guests without check-in to FB, yes!, as soon as they connect to SSID. However, you can modify this default setting to Block non-HTTP traffic prior to sign-on, but there is a problem!

Failure 2 –  Once I enabled the option to block non-HTTP traffic, our Guests received Bad Gateway error often (when they try to check-in to FB page) and the Cisco support recommends to allow non-HTTP traffic.

Failure 3 – Next one is an utter failure! Even though our session limit was set as half-an-hour as you can see in the previous screenshots, our Guests were able to access internet even on the next day.