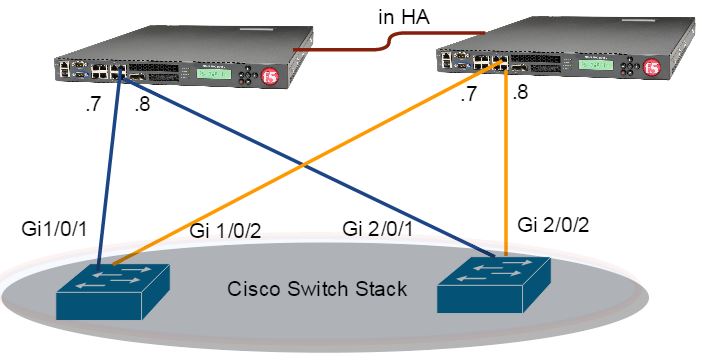 F5 LACP Configuration:
In both F5 boxes, configure LACP as shown in the screenshot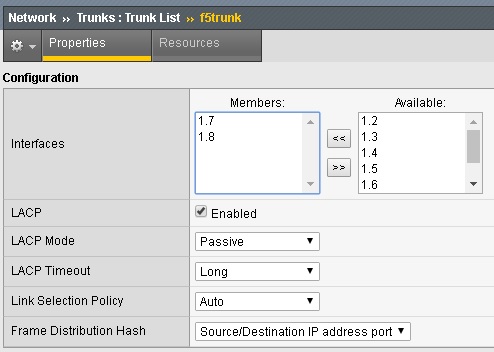 Cisco Switch Configuration:
Both these Cisco switches are stacked and it supports multi-chassis port-channel, i.e. creating port-channel between Ethernet interfaces of different switches.
Set all these interface to default settings, this is to avoid mismatch on interface configuration causing failure of ether-channel formation.
(config)# default int gi 1/0/1
(config)# default int gi 2/0/1
(config)# default int gi 1/0/2
(config)# default int gi 2/0/2
(config)# int range gi 1/0/1
(config-if)# no shut
(config-if)# channel-group 10 mode active
(config-if)# exit
(config)# int range gi 2/0/1
(config-if)# no shut
(config-if)# channel-group 10 mode active
(config-if)# exit
(config)# int port-channel 10
(config-if)# switchport mode trunk

(config)# int range gi 1/0/2
(config-if)# no shut
(config-if)# channel-group 11 mode active
(config-if)# exit
(config)# int range gi 2/0/2
(config-if)# no shut
(config-if)# channel-group 11 mode active
(config-if)# exit
(config)# int port-channel 11
(config-if)# switchport mode trunk